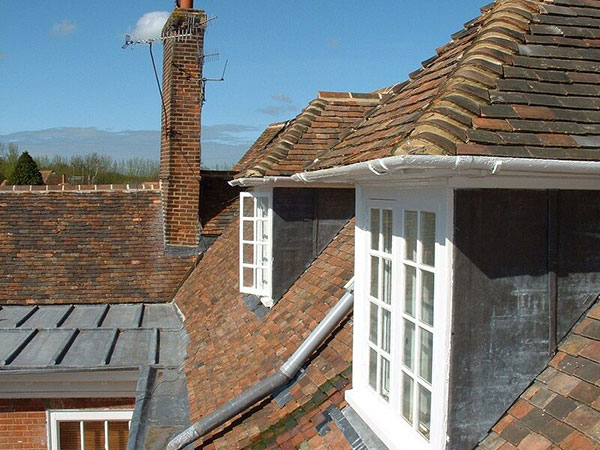 John Williams & Company are recognised Kent Peg Tile experts
John Williams & Company have re-tiled many important properties throughout the county over the past eighty years or more as well as advising architects, surveyors and organisations on the repair and renewal of these unique roofs. Our experienced heritage roof tilers use skills and techniques passed down through generations and preserve and record those skills for future generations
Kent Peg Tiled roofs are a beautiful feature of the traditional Kent environment. The fast pitched roofs with a rich variety of natural hues and undulating surfaces give a peg tile roof its charm and undeniable character. Peg tiling is a craft where traditional skills have been passed down through generations and where local traditions and customs make for a very vernacular experience. Many of our tilers have come from generations of skilled peg tilers with a passion and empathy for their craft.
Every peg tile is unique in shape, size and colour and the skill and empathy required to lay these tiles while maintaining bond and gauge so that the tiles perform to their best requires a craftsman possessing passion and patience in equal measure. There were traditionally no tile and half until Victorian times meaning that for pre-Victorian properties tiles had to be skilfully cut back over a number of tiles at abutments, verges and hips etc. to maintain a good bond. The small size of the tiles allows for inventive and complex shapes and architectural features to be covered. Exquisite but complex details such as eyebrows, swept valleys, swept abutments and laced valleys add to the beauty of larger mansions while small quaint cottages share a vernacular beauty that the warmth and variety of peg tiles enhance.
Peg tiles have been made in Kent since Roman times and most of the tiles seen on buildings today will date from the 18th, 19th & 20th centuries. Peg tiles are not exclusive to Kent and can be found in many parts of the country but the size of tiles differs greatly. The traditional Kent peg tile measures about 9in x 6in and is generally thought to be the smallest of the tiles, while peg tiles in Hampshire are often 13in x 7in and Sussex 10in x 6in.
Probably the earliest and largest tile works in Kent was at Tylers Hill near Canterbury which was producing pottery and roof tiles from Roman times up until at least 1877. Small local marl pits and kilns were peppered all over the county and at the turn of the 19th Century there were 150 or more tile works operating, this had reduced to less than 70 by the end of the 1930s and the last works closed in 1959. Locally there were well known works at Ashford – Naccolt Brick & Tile, Westenhanger – W T Lamb & Sons Ltd, Folkestone – Hawkinge Brick Co Ltd. and Andrew's of Brabourne.
Early kilns were fired by wood and the temperature regulated simply by the skill and experience of the tile makers. Tiles which were fired hard would last for many years while those which were under-fired and soft would soon disintegrate. It is often suggested that the tile makers of yesteryear produced far better tiles than we do today on the basis that they have lasted for centuries. Although they were undoubtedly highly skilled and had enormous empathy for their craft the truth is probably that the softer less robust tiles have long since disappeared leaving us only with the best of the crop for comparison. Primitive firing, the beautiful colours of local clay and the imperfections of hand production all add to the charm of peg tiles. Added to this, on older historic houses, the character is often further enhanced by the number of re-tilings that have already taken place.
Tile graffiti is an interesting subject and adds another dimension to the appeal of the handmade tile. It is exciting to find on the bed of a tile the impression of a foxes or badgers footprint where it has walked over the tile while it was in the drying rack or where a bored or disgruntled worker has written an ode to his employer. Sometimes one will find tally marks or details of wages paid. There are also of course the normal distinctive marks, trade names and trade marks of manufacturers. We have an extensive list of trade marks etc and will always be pleased to try and identify a manufacturer from their mark.
As the name suggests peg tiles are fixed to the roof with pegs. The tiles have two square holes where wooden pegs can be inserted to hang the tiles on the wooden roofing laths. It is often stated that the pegs would be oak but our experience suggests that this is not normally the case and by far the majority of pegs are softwood. Although there will normally be two peg holes it is not unusual to find that only one peg is used. Because the holes are made by hand, they are very rarely both in the same height position and therefore only one peg is likely to be touching the roofing lath or batten. A skilled craftsman will choose which hole to use depending on the character of the roof. From Victorian times it is usual to see round holes as iron nails were commonly used to hang the tiles. The change to using iron nails had very serious implications because over time the iron fixings would rust and expand. The expanding nail would fill the hole and in exerting enormous pressure on the tile would cause the corner of the tile to break. In some localised areas animal bones have been found to be used as tile pegs.
Before the use of underlays tiles were often 'torched' to help prevent wind uplift and to help control condensation and prevent wind driven snow entering the roof void. Tiles were either half torched where just the head of the tile was bedded and parged with a weak lime and cows hair mortar or fully torched where the whole bed of the tile was fully parged between the laths.
Peg tiles were fixed to timber laths either riven or sawn by simply hanging the peg over the top of the lath. Early riven laths were normally made from Oak or Chestnut and can be found on both roof slopes and vertical tile hung walls.
The quintessentially Kent Oast House with its steep conical roof needed a special peg tile and for this purpose Oast taper tiles were produced to accommodate the tight conical shape.
The Great Storm of 1984 saw enormous damage caused to our Kent peg tile heritage resulting in an enormous shortage of recycled tiles for repairs. This opportunity saw the local resurgence of small scale peg tile manufacture in Kent starting with fittings such as ridge tiles and bonnet hips and later expanding into tile manufacture itself and there are now in excess of a dozen or so local family tile manufacturers producing excellent quality new peg tiles and fittings in Kent.
It is our mission to continue training young apprentices in the traditional art of Kent Peg Tiling to ensure that this vernacular craft is not lost to future generations and to ensure that our rich Kent heritage is maintained.
John Williams & Company is a family run business since 1870. 2020 marks our 150th anniversary.
We are specialists in all types of traditional pitched roofing from Kent Peg Tiling to slating and modern concrete tiling; and experts in the repair and renovation of buildings including brickwork, carpentry and plastering.
Let us know how we can help. Call 01303 265198 or send an email today.